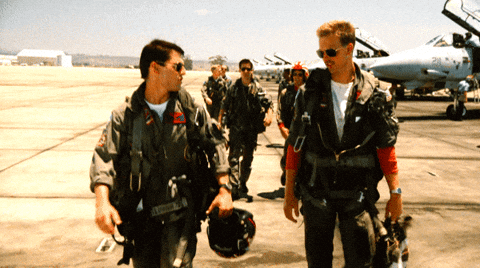 Seriously. This is how I feel right now. Whether or not I get my own F14 is a different discussion entirely.

Thank you. You just trusted me to email you my own personal trading and market notes and that means the world to me. I've been writing the Morning! 5 with Fitz for my own use for years and, frankly, had no idea that so many people would like 'em!
I'm thrilled you're along for the ride.

Every email will focus on one thing: Making you a better, more consistent and hopefully more profitable trader or investor. Who knows, perhaps even both!

That's it.

It starts tomorrow (or the next trading day) when the next email lands in your inbox.

You got this – I promise!
While you're here, one favor to ask is that you whitelist the five@onebarahead.com email address. It prevents our knowledge (and any future profit potential) from disappearing into a black hole.

On Gmail Web: 3 grey dots > Add to Contacts List
On Gmail App: (if in junk/promotions): 3 white dots > Move to > Primary
On iPhone (if in junk): Swipe left on mail > More > Mark > Not as junk
Thank you for joining, and welcome to the family.

- Keith
p.s. Each subject line will always include a 📝  in it, so you know it's me.